80's German Punk Band:
Inspiration for this series was drawn from a friend who introduced me to an amazing German punk band coming out of the 80s…and still going. Riding along with a friend, he insisted on playing me music from around the world.
There's a thing about playing music to other people, especially friends. It's an intimate sensation to say to a friend, I found this music and I think you'll love it and then getting it spot on. It shows that you know the person well enough to understand, and cater for, their tastes. He later inspired me to write this series and the band to start it all off was Die Toten Hosen (or in English, The Dead Pants).
Established in 1982 in a Düsseldorf bar, the band today sports a discography of fifteen studio albums, five live albums and fifty-six singles. While most of their music is German, they have put out four non-German albums. They even do a killer cover of Blitzkrieg Bob:
Looking into the 90s:
It's their original music that takes the cake though. The year 1994 was the ultimate breakout year for the genre with iconic albums like Offspring's Smash, Green Day's Dookie, NOFX's Punk in Drublic, Sublime's Robbin' the Hood and Rancid's Let Go all being released. The album 1994 unfortunately forgot is Love, Peace and Money which is basically English versions of their German songs but the list of subject matter is more unique than a footballer's hairstyle and the musical abilities put most punk bands to shame.
Punk today is mostly about power chords and sticking it to the man. While there's a lot of that still in there, my two favourtie songs (Year 2000 and Wasted Years) and a few others sport exceptionally sophisticated canons. Granted many punk rockers hardly know what a canon is but those of them who really appreciate music, and there are a few, would melt at the style of these ballies. Even listening to the German version fills me with the kind of happy that only the know how of real punk musical technique can.
If you watch this song through to the third chorus, you'll be rewarded with tremendous German lyrics (the English version is as good), incredible harmony and even a pitch raise to the dominant fifth…but that's also me bragging about my grade 4 musical theory knowledge:
https://www.youtube.com/watch?v=S8v2cGQ9v0Q
It's not just the musical style that's attractive. It's also the lyrical content. These okes sing about everything from how in the 90s we thought the world would be okay again by the year 2000, to killing oneself to show their love for another to comparing one's sex drive with a car that won't start and not knowing if they need a doctor or a mechanic.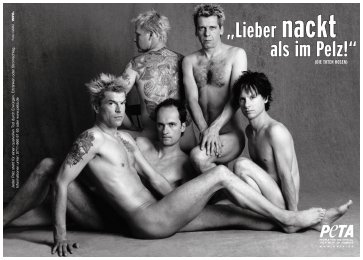 The 90s was also characterized by hidden tracks, although it was difficult to hide music on a CD so they'd always leave a 3 minute gap at the end of the last song before another song (the "hidden track") began playing. Usually it's a gag and in this instance it was no different…manipulating the old Cuban (though most wrongly identify it as Mexican) staple of Guantanamera to "Cunt in the Mirror"
This is a band that we should all check out and compel to come tour in South Africa.
Smart punks are the coolest punks, especially when they do things like posing naked to raise awareness for animal rights group PETA and doing a variety of other activities to support a number of social organisations.
These okes rock really hard and have been for years. I can find appreciation for every aspect of their music and am grateful for their application of turgor pressure from within the genre.
Unfortunately, you're going to struggle finding their English music on YouTube but it's okay because clearly some German words are understandable in English. For example, I understood when he used the German expression of "Swimming Pool"
You should definitely take some time out of your day to check these guys out and if you have any account where you can stream music add them to your playlist. I will leave you with the German version of their coolest song in my book…a song about how everything will be okay in the Year 2000:
[vc_btn title="Subscribe for More Here" size="lg" align="center" link="url:http%3A%2F%2Fmilled.co.za%2Fsubscribe%2F|title:Subscribe%20Here|target:%20_blank|" button_block="true"]
[vc_btn title="Join The Community" color="blue" size="lg" align="center" link="url:https%3A%2F%2Fwww.facebook.com%2FMilledZA%2F|title:Community|target:%20_blank|" button_block="true"]